Postage Stamps of Austria
by Tony Clayton
---
First Republic
---
1918 Provisionals <<-- : -->> 1920 Definitives
---
1919 Issue
---
The first definitive designs of the Austrian Republic
---
There are three main designs used for stamps up to 1 krone face value:
The posthorn, used for 3h, 6h, 12h, 15h, 25h and 60h
The Arms of the Republic, used for 5h, 10h, 25h, 45h and 1k.
A figure representing the New Republic, used for 20h, 30h, 40h and 50h.
The initial issue was of just 12 values. Changes of colour took place in 1920 for 6 values and a further two new values (15h and 60h) added..
6 heller orange
Posthorn
SG 339.

20 heller bright green
New Republic
SG 345.

25 heller blue
SG 346.
---
Varieties
Nine values were issued imperforate when the printers could not keep up with demand for perforated stamps, and four values were issued on thick grey paper.
5 heller yellow-green, imperforate
SG 337b.

20 heller bright green, thick grey paper
SG 345a.
---
Higher values
Nine stamps were issued for values greater than 1 krone. Normally perforated 12½, 8 of these are known perforated 11½ and three perforated 11½x12½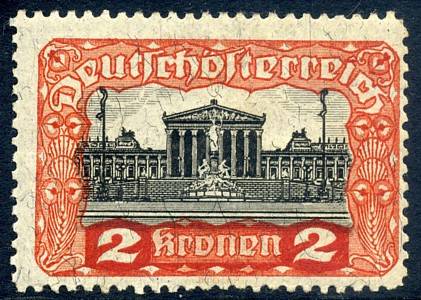 2 kronen black and vermilion
SG 356.
---
1918 Provisionals <<-- : -->> 1920 Definitives
Austrian Stamps Home Page
Austrian Republic Index
---
Stamps of Austria - 1919 Definitives
Copyright reserved by the author, Tony Clayton
v1a 7th June 2016